It's the NBA All-Star game players and fans don't want – and now LeBron James has voiced his frustration.
Ben Simmons drafted to Team LeBron in the All-Star draft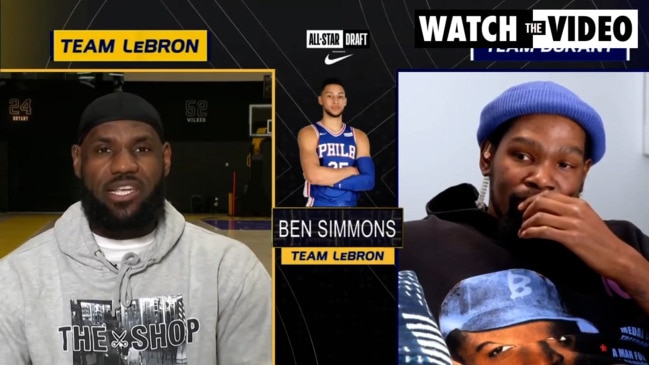 It's the NBA All-Star game no one wanted – except the league's 30 owners who needed the annual event to happen to fulfil their broadcasting obligations.
But here we are, minus Ben Simmons and Joel Embiid, who were ruled out of the game early on Monday morning after spending time with a barber who later tested positive for COVID-19.
LeBron James was among a host of stars who would have preferred to skip this year's event, and he spoke about the "mess" enveloping the 76ers duo ahead of the game, which is scheduled to begin at 12pm AEDT.
Watch every event of the NBA All-Star 2021 LIVE on ESPN with Kayo. New to Kayo? Try 14-Days Free Now >
NBA ALL-STARS SCHEDULE
Not before 10:30am AEDT
Skills Challenge
3-point Challenge
Not before 12pm AEDT
NBA All-Star game
Dunk contest (half-time)
Live Updates
3-point Challenge: Live tally
FIRST ROUND
Mike Conley, Jazz – 28
Jayson Tatum, Celtics – 25
Zach LaVine, Bulls – 22
Donovan Mitchell, Jazz – 22
Jaylen Brown, Celtics – 17
Jaylen Brown trying for the And-1 in the #MtnDew3PT contest 🤣 pic.twitter.com/XfbcOZIRXt

All-Stars outfits ruthlessly mocked

The All-Stars are starting to trickle into State Farm Arena, and needless to say, some of their outfits are raising eyebrows.

Nine-time NBA All-Star James Harden copped the most mockery for his expensive raincoat.

Harden looks like he'll be disposing of a body later. pic.twitter.com/D5BmuIZW2b

James Harden dressed for a river baptism pic.twitter.com/dzmtXKfQCH

#NBAAllStar fits from Luka and Harden 💫 pic.twitter.com/yO9604dyTr

Sabonis wins Skills Challenge

Indiana Pacers All-Star Domantas Sabonis has won the Skills Challenge – not that anyone was paying attention.

SABONIS WINS THE SKILLS CHALLENGE 🏆 pic.twitter.com/GsMTo8G6tO

They should have some sort of 1-on-1 competition instead. That would actually be exciting.

NBA All-Stars teams

Team LeBron
Captain: LeBron James, Lakers
Pick 1: Giannis Antetokounmpo, Bucks
Pick 2: Stephen Curry, Warriors
Pick 3: Luka Doncic, Mavericks
Pick 4: Nikola Jokic, Nuggets
Pick 5: Damian Lillard, Trail Blazers
Pick 6: Ben Simmons, 76ers (ruled out)
Pick 7: Chris Paul, Suns
Pick 8: Jaylen Brown, Celtics
Pick 9: Paul George, Clippers
Pick 10: Domantas Sabonis, Pacers
Pick 11: Rudy Gobert, Jazz

Team Durant
Captain: Kevin Durant, Nets (injured, will not play)
Pick 1: Kyrie Irving, Nets
Pick 2: Joel Embiid, 76ers (ruled out)
Pick 3: Kawhi Leonard, Clippers
Pick 4: Bradley Beal, Wizards
Pick 5: Jayson Tatum, Celtics
Pick 6: James Harden, Nets
Pick 7: Devin Booker, Suns (injured, replaced by Jazz's Mike Conley)
Pick 8: Zion Williamson, Pelicans
Pick 9: Zach LaVine, Bulls
Pick 10: Julius Randle, Knicks
Pick 11: Nikola Vucevic, Magic
Pick 12: Donovan Mitchell, Jazz

Curry prepares for 3-point Challenge

It's been a minute!! Game day baby 🙌🏽 #NBAAllStar pic.twitter.com/xdKv9b8LWS

LeBron no fan of All-Star game "mess"

It's the NBA All-Star game no one wanted – except the league's 30 owners who needed the annual event to happen to fulfil their broadcasting obligations.

But here we are, minus Ben Simmons and Joel Embiid, who were ruled out of the game early on Monday morning after spending time with a barber who later tested positive for COVID-19.

LeBron James was among a host of stars who would have preferred to skip this year's event, and he spoke about the "mess" enveloping the 76ers duo ahead of the game, which is scheduled to begin at 12pm AEDT.

LeBron James hates that Joel Embiid and Ben Simmons can't play in the NBA All-Star Game

"it's very unfortunate that Joel and Ben won't be able to play on our game tonight. Obviously, they are two worthy All-Stars, and this means a lot to all of us"@6abc @KingJames#NBAAllStar pic.twitter.com/6LTBWMiss5

"It's very unfortunate that Joel and Ben won't be able to play in our game tonight," James said.

"Obviously, they are two worthy All-Stars, and this means a lot to all of us.

"I can only control what I can control, and I'm here to represent Team LeBron.

"Something like that happening is something that we all thought could possibly happen, and I hate the fact that Joel and Ben will not be able to play today because of that.

"Best wishes to them obviously, even though they're not the ones who tested positive, but with the contract tracing and all that mess."

Simmons was to feature in team LeBron, while Embiid was the No. 2 pick in Team Durant.

Related topics

Source: Read Full Article