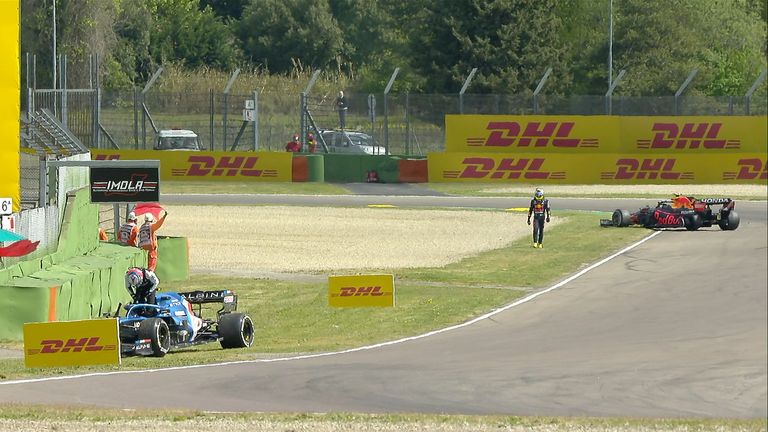 Valtteri Bottas landed the first blow for Mercedes on F1 2021's second weekend by topping the timesheets in a chaotic Emilia-Romagna GP first practice, which included a collision between Sergio Perez and Esteban Ocon.
In a frenetic and incident-packed opening session at Italy's famous Imola circuit, Bottas set the fastest time on his very last lap, with Lewis Hamilton and Max Verstappen – the protagonists of a thrilling season-opener in Bahrain – both within six-hundredths of a second of the 1:16.564.
Hamilton on 'great man' Vettel, Seb on 'smarter' Lewis
New Sky F1 schedule for Emilia-Romagna GP
That extremely narrow margin hints at another close battle between Mercedes, who won the opening GP against the odds, and Red Bull, who topped every Bahrain practice session and qualifying, this weekend.
The opening session was, however, perhaps more notable for its dramatic incidents, with drivers frequently losing control of their cars around the narrow, old-school Imola circuit. And there was even contact between two cars.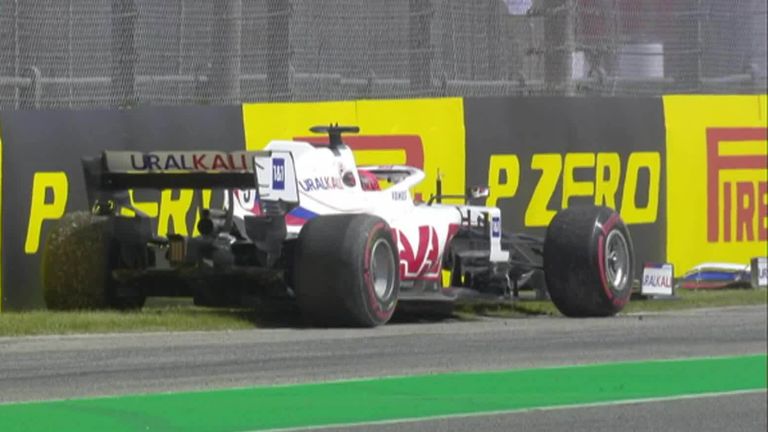 While technical issues at the track meant replays were in short supply, Red Bull's Perez and Alpine's Ocon appear to have collided at the chicane, with Perez suffering big damage to his rear left wheel and Ocon to his front right.
The session had to be red-flagged as the stricken cars ground to a halt.
"I've only had it from the driver's perspective, but it sounds like Ocon was on a slow lap, Sergio was on a flying lap, and there's been contact between the two guys into that corner," Red Bull boss Christian Horner told Sky F1.
"So that's all I can say, I've only heard it second hand from the driver."
The incident between the pair, former team-mates from their Racing Point days, is under investigation from the stewards.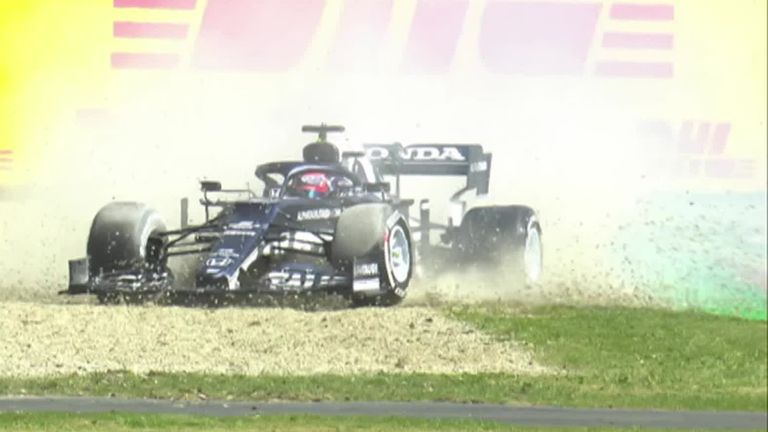 There were also two spins for Nikita Mazepin, the second of which saw the F1 rookie – who had a torrid debut weekend – damage his Haas and bring out a second red flag right at the end of the session.
Other drivers to find the gravel included Verstappen and AlphaTauri's Yuki Tsunoda.
Which teams, drivers have made strong start at Imola?
After a Bahrain season-opener proved Red Bull's title credentials despite Mercedes taking the victory, there was plenty of intrigue heading into Imola P1 to see whether the title challengers could build on their presumed advantage, and whether the world champions had used the three-week break to unlock their car's potential.
While it's tricky to read too much into the early pecking order due to the many incidents in P1, it was certainly a promising start for Mercedes as Bottas and Hamilton flirted with the top of the timesheets throughout the session, before the Finnish driver – on pole at Imola last year – landed the final blow on soft tyres.
He may not be in Imola, but you can't keep @karunchandhok away from F1 for long! 🛋👋
Karun reflects on FP1, highlighting the biggest talking points from the opening session ⤵️#SkyF1 | #F1 | #ImolaGP 🇮🇹 pic.twitter.com/A8hOzCumqN
"I'm surprised," said Sky F1's Anthony Davidson. "I thought Verstappen would be like he was in Bahrain. Topping every session, looking like Mercedes were on the back foot."
However, such a slender lead over Verstappen hardly proves Mercedes have the edge – while we have also yet to see a representative lap from Perez in the other Red Bull.
Elsewhere, Ferrari enjoyed a strong start to one of their home Grands Prix, with Charles Leclerc finishing the session fourth and Carlos Sainz, who led for much of P1, sixth.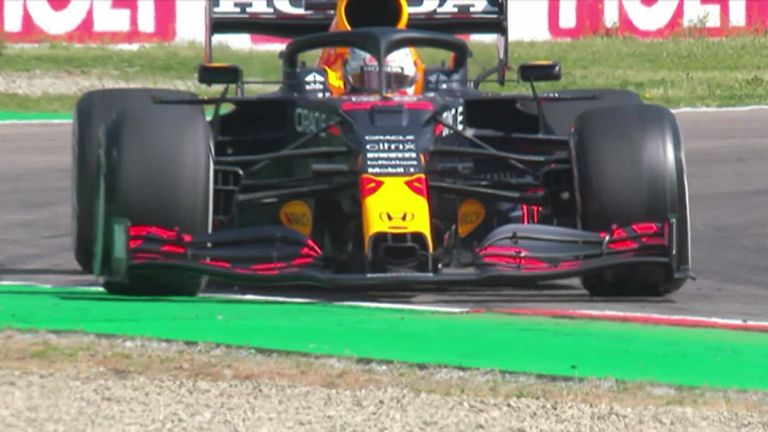 Pierre Gasly was fifth for an increasingly fast AlphaTauri, while Fernando Alonso, Lance Stroll and even Williams' Nicholas Latifi also found themselves up in the top-10.
McLaren, presumed favourites in the fight for third in the constructors' championship, had a quiet start with Daniel Ricciardo and Lando Norris only 10th and 13th.
But we'll get plenty more answers in Practice Two, which starts at 1.30pm on Sky Sports F1.
Emilia-Romagna GP Practice One Timesheet
Source: Read Full Article