In today's AFL briefing, your daily wrap of football news:
Essendon's reigning club champion backs Dyson Heppell to retain captaincy.
Star Hawks forward to be sidelined for opening month of season and likely beyond.
Top Blues draftee not yet ready to dare to dream about round one AFL debut.
A major concussion body has delivered its submission to a Senate inquiry into head trauma.
Check back throughout the day for updates.
Essendon forward says Heppell is Wright man for the job
Marc McGowan
Essendon's reigning club champion Peter Wright wants Dyson Heppell to retain the captaincy and is excited to again play alongside Anthony McDonald-Tipungwuti.
The Bombers are yet to make a call on who will be skipper in 2023, but coach Brad Scott endorsed Heppell, as Zach Merrett and Andy McGrath loom as alternative options.
Peter Wright wants Dyson Heppell to captain Essendon for a seventh-straight season.Credit:Getty Images
"The way it stands, 'Hepps' is still our captain, and I'd be super rapt if he wanted to continue as captain," Wright said.
"He's been outstanding, and he's a really quality person, so I'm hoping he continues as captain but if not, it'll be up to Zach and Andy and a number of other guys to step in and fill the void that he leaves.
"Whether [Heppell] is captain or not; he'll be one of the senior leaders in the group and will have a lot of say over the group."
McDonald-Tipungwuti has enjoyed an impressive pre-season since returning from his brief retirement, and looks increasingly likely to be in Essendon's round one team.
"A fit and healthy Tony is better for everyone, but for us as a group he obviously adds a different dynamic and we feel like we're starting to look like a bit of a diverse front six," Wright said.
"First thing first with Tony, we wanted him to be enjoying his life and enjoying his footy and I feel like he's been able to do that. He's been really healthy the whole pre-season.
"I don't think he's really missed a training session, which is really important for him to build that fitness up.
"He's always in good spirits, always smiling, and seems to be enjoying his footy, so I'm really rapt for him for that and, hopefully, he can continue to build his fitness and push for selection."
Wright (calf) confirmed he would play in the Bombers' internal match simulation on Thursday and the upcoming practice matches against Gold Coast and St Kilda.
Jake Stringer is set to join him after shaking some lingering back soreness, but second-year midfielder Ben Hobbs (calf) is in doubt for round one.
Lewis sidelined with ACL sprain
Marc McGowan
Hawthorn will be without star forward target Mitch Lewis for the opening month of the 2023 season – and likely beyond – as he recovers from an anterior cruciate ligament sprain.
Mitch Lewis is Hawthorn's best target up forward, but they will have to survive without him.Credit:AFL Photos
Lewis' sprain occurred in late January, to the same knee he hurt last year, but the Hawks are adamant the two setbacks are not related.
There is still no exact timetable for the 24-year-old to play again, with coach Sam Mitchell revealing a round four or five return was "an absolute best-case scenario".
"He's up and down, I would say. He's running a bit already, but then he's had a little bit of swelling in it, so then he has to back off," Mitchell told the AFL website.
"If things go really well, I think potentially he'll be available for round four or five as an absolute best-case scenario. There's nothing that will speed it up. And any setbacks that he has, which is likely, will knock him back a week or two weeks, or a month or two months.
"At this stage, he just goes day by day and tries to get as much improvement as he can, and we're not going to rush him. He's an important player and if you get a knee wrong, then it's 12 months out of the game, so we'd like to avoid that."
Lewis finished sixth in Hawthorn's club champion award last year in a career-best season in which he kicked 37 goals from only 15 games, a tally only Luke Breust (40) bettered in six more matches.
Mitchell said there was no direct replacement for Lewis at the rebuilding Hawks, meaning they will need to get creative to kick goals early in the season.
Some combination of Jacob Koschitzke, fellow swingman Emerson Jeka and ex-Bulldogs recruit Fergus Greene look set to be Hawthorn's aerial options in Lewis' absence, and with Jack Gunston now at Brisbane Lions.
The Hawks may also opt to play two ruckmen, likely Ned Reeves and Lloyd Meek, to add extra height.
Blues draftee not ready to discuss round one debut
Marc McGowan
Carlton's top draftee Ollie Hollands is not yet daring to dream – at least publicly – of making his AFL debut in the Blues' traditional season-opener against Richmond.
The hard-running midfielder, the No.11 selection in last year's draft, was back at his old school, St Monica's Primary in Wodonga, on Tuesday when the inevitable question about his debut came up.
Ollie Hollands is forcing his way into round one calculations for Carlton.Credit:Getty Images
Sam Walsh's absence as he recovers from back surgery helps Hollands' chances, but he will likely still need to force his way ahead of Lochie O'Brien, given recruit Blake Acres is considered a certain starter.
"I mean, [with] where the list is at the moment, and where our midfield group is, there's a lot of depth there," Hollands said.
"So, [I will] just keep staying in the now and playing each training session by session and just keep knocking down the door. We'll just wait and see what happens there."
Hollands, 19, is the latest member of his family to make it to VFL/AFL ranks. His older brother, fellow first-round pick Elijah, is on Gold Coast's list, and his father, Ben, played eight matches for Richmond. His great-grandfather, Martin Cross, also made 36 senior appearances for the Blues in the 1960s.
"I've been in the system for only a couple months and it's still a massive whirlwind to be honest," Hollands said. "There's been a bit of family history at the club and to be able to live that on is pretty special."
Hollands is already hanging out for the day he hopefully shares the same AFL field with his Suns-listed brother.
"It definitely is a dream to be able to play against him. If it did arise, there'd be a bit of competition out there on the field I can imagine."
Australian Rules must 'adapt and survive', says concussion body
Jon Pierik
The Community Concussion Research Foundation has called for an independent body to scrutinise head knocks in junior and senior competitions to ensure Australian rules football can "adapt and survive".
In a submission to a Senate inquiry into traumatic brain injuries and concussion, the research foundation – with former St Kilda president Andrew Plympton as its chair and player agent Peter Jess as chief executive – said there needs to be urgent change to the way serious head knocks and sub-concussive hits are reported, assessed and treated.
The AFL, also lodging a Senate submission, has made major inroads in its handling of concussions and head knocks, but leading neurophysiologists are still calling for the 12-day minimum rest for AFL players to be extended.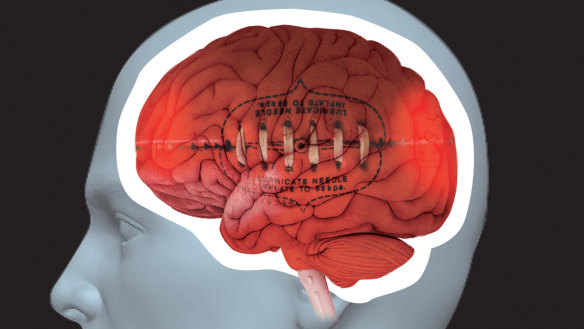 The Senate inquiry is investigating how sports at all levels handle concussion.Credit:Jo Gay
"Unless AFL football more resembles Gaelic football in the near future, the sport is not sustainable. The sport has to adapt to survive. The essential elements, highlights and public attraction of the sport would continue but in a safer format," the submission said.
Repeated concussions, and the potentially life-changing impact of CTE, have become major issues for players and the AFL, with a class action of former players still a possibility.
Head knocks are also an issue at grassroots level, but the research foundation said there was not enough information yet to suggest Australia has a "concussion epidemic".
"There are significant gaps in our understanding of both sport-related and non-sport-related concussion. This lack of information results in an inability to confirm if concussion is indeed 'an epidemic' in Australia and prevents accurate assessment of the socio-economic cost of concussion to society," the submission to the Senate said.
"Recent evidence suggests females are more likely to suffer concussions than males and that it typically takes females nearly twice as long to recover from concussions."
At the elite level, the submission said more research was needed into whether the AFL's 12-day concussion protocol was long enough.
"After the AFL announced that it was doubling the mandatory time out for a concussed player from six to 12 days in 2021, the NRL followed suit with an 11-day stand-down. Neither code has provided scientific evidence to support their claim that these stand-downs are safe," the submission said.
"Before this, 80 per cent of concussed players were returned to competition the following week, according to calculations from statistics published in the AFL's injury reports. Some people take a lot longer to recover from concussion than others. There is a need for an evidence-based approach based on continual testing feeding into the concussion passport."
An AFL spokesman re-iterated the league was committed to best-practice policy.
"The health and safety of our participants is of paramount importance to the AFL, and we will seek to contribute to learnings from the inquiry that will positively impact elite and grassroots competitions. Any measures to positively impact elite and grassroots competitions across all sports is something the AFL acknowledges and looks forward to participating in," the spokesman said.
"The AFL will be lodging a submission, and cooperating fully, with the Senate inquiry, and it is not appropriate to pre-empt that submission. Similarly, it's not appropriate for us to comment on the content of other submissions which we haven't seen.
"The AFL employs a number of experts, consultants with a wide range of experts and expert bodies and constantly informs itself of all the science, and it maintains and adapts its concussion guidelines accordingly. Over the past two decades we have changed rules, strengthened protocols and educated our clubs and players on the reasons why we are treating the issue so seriously.
"Since season 2005, when the AFL overhauled the tribunal system, the AFL has made over 30 changes to the AFL regulations and tribunal guidelines to assist in the deterrence of conduct causing or giving rise to the risk of concussion and other head trauma, and to both encourage and enforce change of behaviour on field."
The Age reported last year the brains of players were still recovering 12 days after they were concussed, according to a Monash University study of amateur players.
"The minimum 12-day mandatory preclusion period is only one of a multi-faceted set of standards and guidelines to be considered by experienced AFL club doctors for each player individually. The very next line in the guidelines specifies that if symptoms persist beyond the first 48 hours, a slower return-to-play approach should be adopted. There are then extensive further guidelines regarding players with ongoing symptoms," the AFL said.
Using figures provided by Concussion Watch, the submission said there were 121 clinical concussions in 2022.
The submission also highlighted the dangers of chronic traumatic encephalopathy, a disease linked to repeated brain trauma and concussions that can only be diagnosed posthumously.
"Over half of brains donated to the Australian Sports Brain Bank have signs of chronic traumatic encephalopathy (CTE), a degenerative brain disease associated with repeated blows to the head, researchers reported in 2022," the submission said.
"Data from the first three years of the national brain bank shows that of the first 21 donors – all of whom participated in sports with risks of repetitive head injury – all but one donor had some form of neurodegeneration, including 12 who were found to have CTE."
Submissions close on Friday.
Keep up to date with the best AFL coverage in the country. Sign up for the Real Footy newsletter.
Most Viewed in Sport
From our partners
Source: Read Full Article