In early 2015, it was decreed that it would henceforth be considered egregious conduct, for any NRL club, coach or player (or anyone else, really) to opine or comment on the performance of a referee or match official. The introduction of those rules was predicated on the strategy of providing "leadership" for match officials, and to inoculate the sport against a maelstrom of vituperative and spiteful "attacks" on the integrity of the game.
It's unlawful under the NRL's Code of Conduct, for any person bound by it to engage in any conduct detrimental to, or prejudicial to the best interests, image and welfare of the game. Making any public statement that might impair public confidence in the honesty and integrity of referees is also banned outright.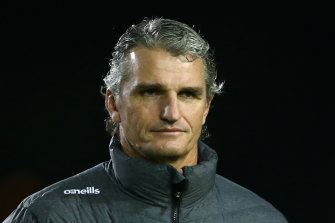 Panthers head coach Ivan Cleary was fined $20,000 for his comments after the Canberra clash.Credit:Getty
And second, I'm manifestly troubled by the entirely perfunctory press release issued by the NRL this week in announcing its proposed sanction on Cleary, and specifically the comments attributed to Andrew Abdo, the acting CEO. Abdo evinces the NRL's great disappointment in Cleary's apparently intolerable comments, seemingly because as a person in a leadership position Cleary brought into question the integrity of rugby league match officials. Great shame indeed.
In ruminating over this I've been reduced to playing a word game of sorts; scribbling lists of what Cleary's demeanour, comments and general behaviour constitute, and more importantly what they don't. For V'landys to label what Cleary said as being "deplorable" isn't something, in and of itself, which should pass untested.
My Concise Oxford English Dictionary defines "deplorable" to mean something that's exceedingly bad; sad and wretched; therefore deserving of strong condemnation. Are we seriously in that sort of territory? No, we most certainly aren't. If you bother to actually watch the video recording; observe how Cleary conducted himself and actually listen to what he said – his overall behaviour is a veritable stratosphere divorced from being deplorable. Ivan Cleary wasn't spun off axis into an incandescent rage; he didn't behave with hysterical disrespect; his words weren't savage, babbling, nonsensical or ridiculous.
Instead, and this is the short version of my list, Cleary presents as balanced, measured, articulate, reasonable, thoughtful, sensible, considered and honest.
And if you want me to go all lawyer-like, the mere fact a person says that "IT FELT LIKE" the opposition team was being "managed" back into the contest doesn't actually equate to an allegation that this was actually happening.
Signalling an intention to punitively sanction Ivan Cleary seems to be Putin-esque overkill of immense magnitude; a decision made with scant consideration of exactly what Cleary said, and the context he said it in. Simply put, nothing in what Ivan Cleary said is actually an attack on the integrity of any person, nor do his comments properly constitute conduct which can rightfully and fairly be determined detrimental to the image and interests of rugby league. It mustn't be forgotten, either, that coaches are forced to appear at these media love-ins.
It's preposterous to pretend that one element of any professional sport – match officials – should be protected from legitimate criticism. Coaches and players are anything but insulated against similar scrutiny, in a sphere where careers rise and fall on performances. Moreover, isn't it plainly insulting to referees?
Gagging participants just makes them appear feeble. If anything, it's probably more difficult to truly respect somebody you're plainly forbidden to think freely about. Should this masthead refuse to accept any further Letters to the Editor? Nah, me either.
No sport could tolerate the intentional inflicting of distress upon match officials; slandering them as slovenly villains would, of course, be vile. Permitted discourse must rise above the gutter through which intimidation and skulduggery flows, but it's imperative that sports' governing bodies not be overly pious.
Sport newsletter
Sports news, results and expert commentary delivered straight to your inbox each weekday. Sign up here.
Source: Read Full Article