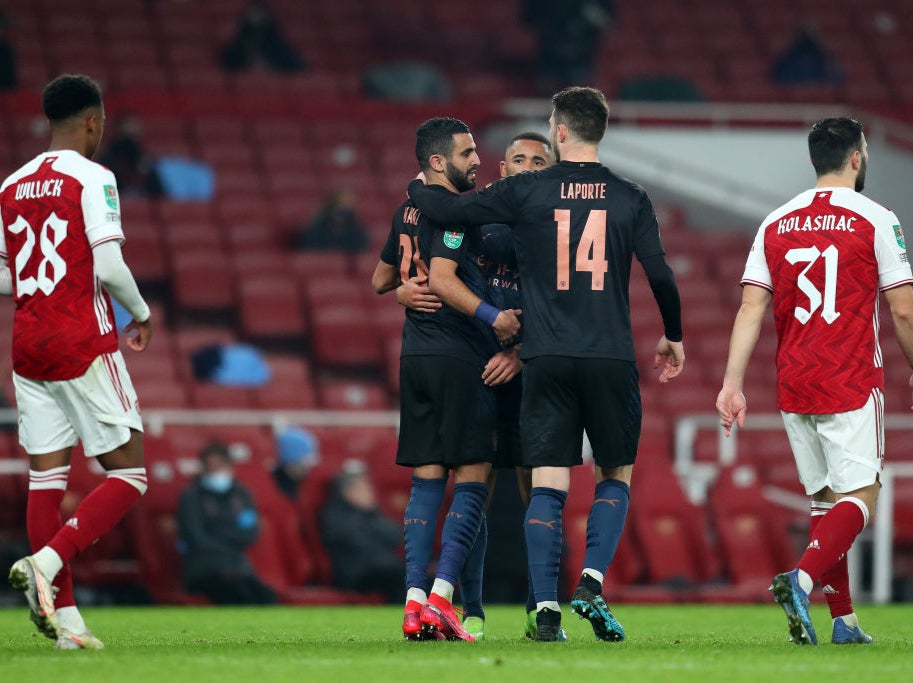 Man City celebrate after Runarsson's error
Laporte looking for form
He might have scored the final goal of the night, but at the other end of the pitch Aymeric Laporte is going through an unusual spell at present.
Given the improbable re-rise to prominence of John Stones, it's an untimely loss of form for Laporte after some heavy expenditure at the back this summer by his club.
He lost the header for Arsenal's goal against Lacazette, but his lack of surety was visible even before that: he failed to cut out a cross, then didn't get back into position, was stuck on the wrong side of Oleksandr Zinchenko and couldn't get back to deny the French striker.
Add in losing a few foot races with the veteran forward, a few wayward passes and losing aerial battles in open play and it was a million miles away from his best, most dominant type of performance.
Rue-narsson
It was a strange decision for Mikel Arteta to rotate his goalkeeper for this game, it must be said. Perhaps Runar Alex Runarsson deserved a game for his training showings, perhaps the manager was just fed up with his team losing matches domestically.
But with City rotating and a cup semi-final berth at stake, this would surely have been an opportunity to inject some confidence and optimism into the side if they could pull off a win.
That was unlikely to begin with, and less so after the Icelandic goalkeeper's dismal night. Despite one good save in a one-on-one, he was almost caught out trying to pass from the back on at least two occasions, before his nightmare moment saw him drop a well-struck, but straight-at-him free-kick, over his own shoulder and into the net – a real poor piece of the most basic goalkeeping imaginable.
Arsenal never recovered and the Icelandic stopper might not be playing too much more this season, save for in the FA Cup.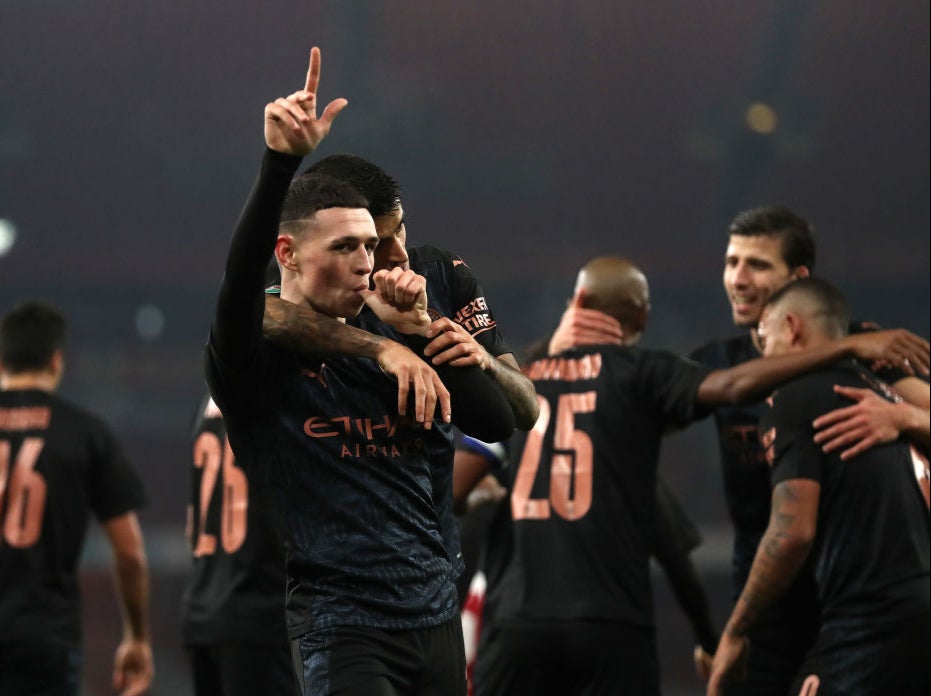 Phil Foden celebrates getting on the scoresheet
Pep's near-perfect record
It's over 1,500 days since City and Guardiola lost a League Cup match – a frankly ridiculous show of consistency, even in a cup eschewed by many of the strongest line-ups.
City have won the last three League Cups in succession and are well-placed to go all the way once more, as they are now into the semi-finals with perhaps three sides who might be capable of beating them still left in it, at least one of which will disappear on Wednesday.
Everton face Man United and either might be able to see off Pep's side, while Spurs might also fancy their chances given they have recently beaten City. But equally, City have the greatest strength in depth and will remain favourites if opponents go with anything other than their strongest possible line-up.
They'll have an eye now on matching Liverpool's four-in-a-row record of League Cup wins.
Where next for Arteta?
Last season, while league form remained patchy and mid-table-esque, Arsenal had cup success to fall back on.
They won the FA Cup, had a decent run in the Europa League and had the odd result which sparked optimism, but 20/21 has so far been a woeful spiral of poor results and lethargic showings.
The Gunners are now 15th in the table and it doesn't get any easier: Chelsea are next up on Boxing Day, before what will now be cruelly, and accurately, termed battles at the bottom against strugglers Brighton and West Brom – the former are 17th in the table, but only two points behind Arteta's team.
Still a lot of work to do, and no easy way back to the top.
Source: Read Full Article