As Stuart Broad prepares to spend another night on 499 wickets, as rain washed out day four of the third Test between England and West Indies, his former captain Andrew Strauss reckons he is at the peak of his powers.
Six wickets on day three from the 34-year-old moved England to within eight dismissals of victory, with the tourists 10 for two and chasing a target of 399. Even with an entire day's play gone, the remainder of day five, with 98 overs to be bowled, should be enough time to create chances to go 2-1 up in the series and claim the Wisden Trophy – even if there is further rain expected on Tuesday.
Within that will be the opportunity for Broad to become only the sixth bowler to make it to 500 Test wickets. Since being omitted for the first match, Broad has come back to deliver 14 wickets at a remarkable average of 10.50. Since the start of 2018, only Australians Pat Cummins (107) and Nathan Lyon (104) have taken more than Broad's 101. And although that figure is bumped by the 12 in this series while no other teams are playing, he has only leap-frogged South African quick Kagiso Rabada (92).
Download the new Independent Premium app
Sharing the full story, not just the headlines
Strauss, the former England captain and director of men's cricket, has been at Emirates Old Trafford for this match as part of Sky's coverage. This third Test is also part of the #RedForRuth initiative under the Ruth Strauss Foundation, which was set up by Strauss in honour of his wife who passed away in December 2018 due to a rare form of lung cancer. Players wore red numbers on their shirts for the foundation, which was set up to raise money for families who have lost a parent to cancer. So far, £655,693 has been raised.
Thus, Strauss had a near perfect view of Broad's four wickets in four overs on Sunday morning, and his two late wickets in West Indies' second innings that evening.
"I honestly don't believe Stuart Broad has bowled much better than this," said Strauss.
"There were a couple of years where perhaps he lost his wrist a bit and it was hard work for him bowling to right-handers. This series so far he seems to be equally potent against left- and right-handers. For all of us, let's write [Broad and James Anderson] off at our peril and let's not be in a hurry to pension them off, because they have both got a lot more to offer England.
"They are two of England's greatest of all time. What has really impressed me with both them is their hunger to continue. Anyone who has played for England for a long period of time will know there is a lot of sacrifice. You're away from home a lot and certainly as a bowler you have to do more physical work and do all the rehab work to make sure you are ready to go. For two to be so hungry is extraordinary.
"At the same time, it's really healthy there's competition for places and some of these young guys are putting their hands up and showing they are ready to play international cricket. From a selector's points of view, it is a great position to be in. We need to savour and appreciate and enjoy every time that those two bowl together in an England shirt."
Strauss played 47 of his 100 Tests with Broad, captaining him for 38 of them. But it was for the England Lions against India in 2007 when the pair first took to the field together. Broad, 21 at the time, took five for 76, which featured the wickets of Mahendra Singh Dhoni and Yuvraj Singh. Strauss had also been impressed by the lanky quick in the 2006 season, in which Broad helped Leicestershire to a domestic Twenty20 trophy.
"There was obvious talent and he was comfortable on the big stage and delivering under pressure. When I saw him it was clear he had most of the assets you needed as a fast bowler: Quick enough at 80-85mph, obviously a lot of height and an ability to swing the ball away from right-handers. He also had real knack of getting wickets with not great balls, which was a good knack to have.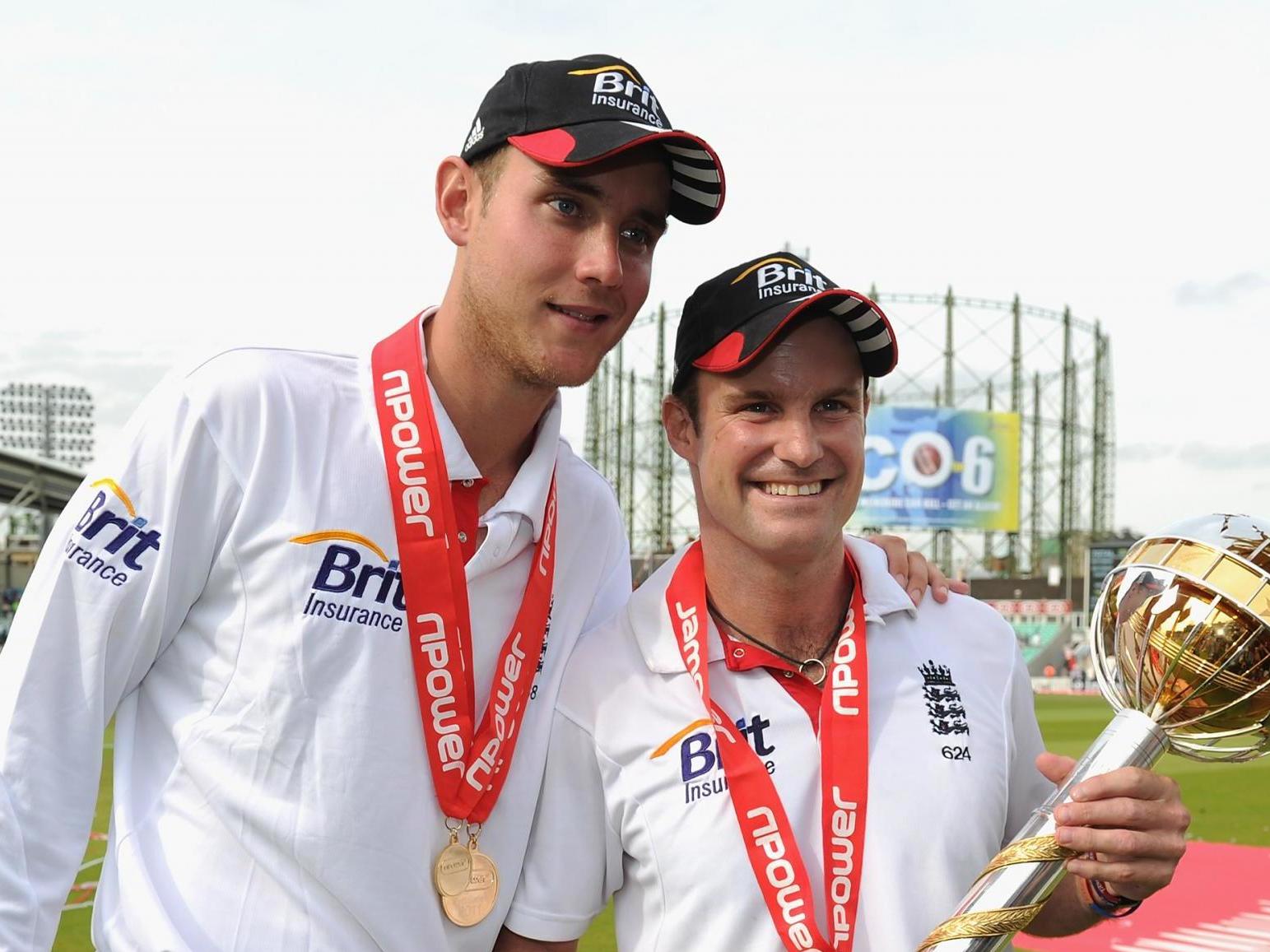 "But there have been so many bowlers whose star has shone for a year or two then either they have been worked out or their confidence has deserted them, and they've been cast aside. I don't think anyone could have said 500 wickets, but I think people thought he had the potential to have a long-term England career.
"But when we look at all of his attributes, you can talk about his height and pace – it's actually his competitiveness and we have seen it this year. He is at his best when he has something to prove. He's had the bit between his teeth in these last two Test matches and that has served him particularly well over the course of his career."
Strauss also reserved special praise for England's openers, Rory Burns and Dom Sibley, who have 234 and 226 runs respectively. Only Sibley has a century to his name as Burns fell short on 90 while the hosts pushed for quick runs, but there is optimism among selectors and supporters that after years of new-ball batsmen coming and going, these two are here to stay.
The revolving door at the top was set in motion by Strauss' retirement at the end of 2016, which saw a wealth of knowledge, 7,037 runs and an average of 40 disappear with him. Once Alastair Cook retired at the end of 2018, there was set to be even more flux. But the left- and right-hander, who came through the age groups at Surrey before Sibley moved to Warwickshire, have hit it off and on Sunday became the first English openers to record a century stand at a home since August 2016.
"I think Sibley and Burns at the top of the order are made of the right stuff temperamentally," Strauss said. "They've both got quite quirky games but very effective games. I think that is a big tick. As we all know, if the openers do their job then it makes it so much easier for the players coming in down the order.
"I look at their games and Rory Burns showed some fantastic technique and ticker against Australia last year. I thought he played brilliantly in that [home] Ashes series, probably the pick of the England batsmen if I'm honest. Dom Sibley, I think his method of getting across the stumps and getting into the channel works well in most circumstances. He might have to be careful about the potential to be caught down the legside or at leg slip in Australia. But they'll work that out and will be relishing the challenge of doing that."
Source: Read Full Article