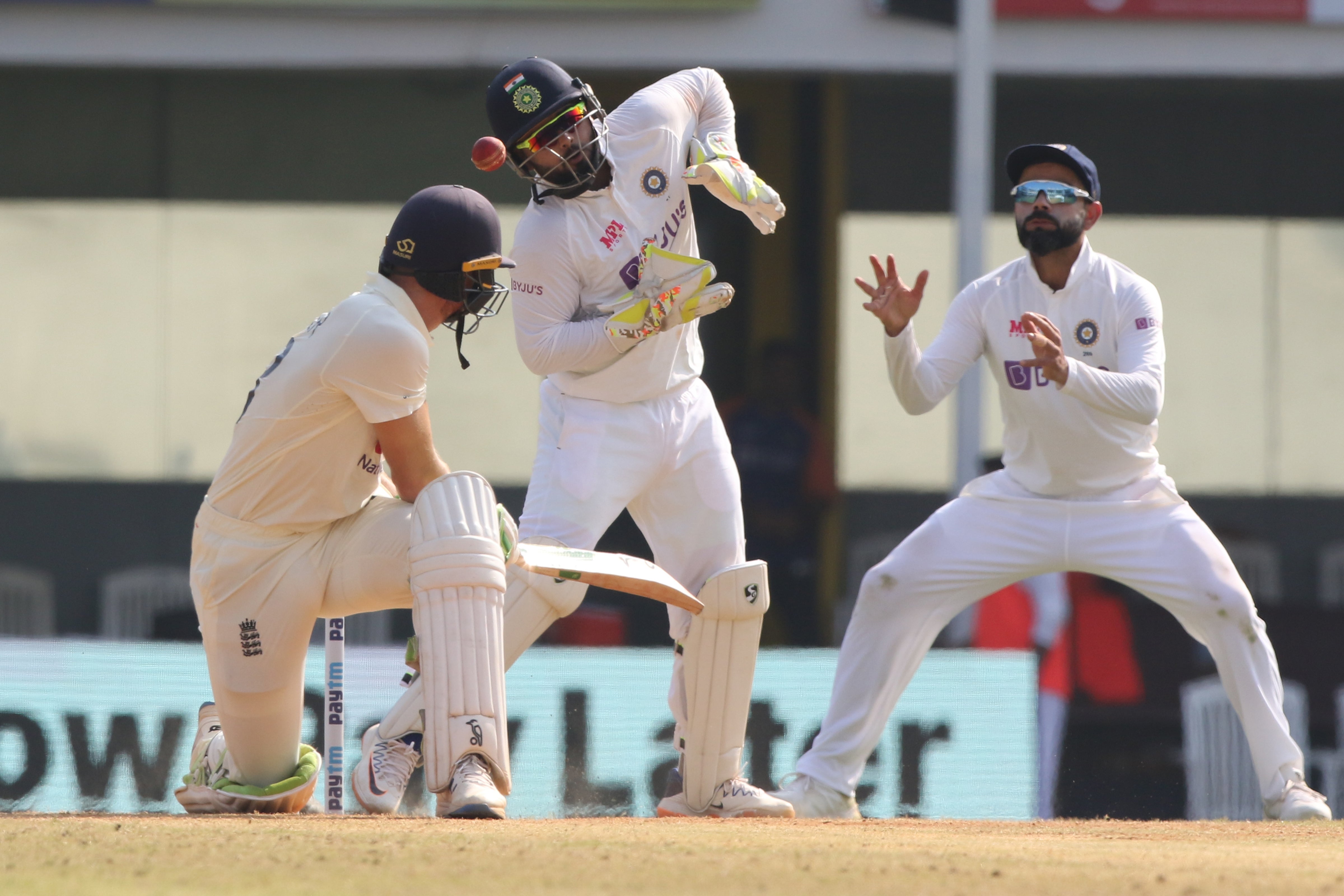 That left just two overs to bat before lunch, with Burns pushing the first ball to slip as Ashwin made short work of the left-hander from round the wicket.
Dan Lawrence took tea on nought, leaving him a nervy 20-minute break having been dismissed for a duck in the first innings. He released that pressure by turning the first ball of the afternoon for four but, that aside, there was precious little for either him or Dom Sibley to get after.
While the incentives were there to score quickly, the discipline of the home attack proved a compelling counter. Sibley had spent 40 minutes over his 16 runs when he sprung Ashwin's trap, reaching in defence and sending an inside edge straight to Cheteshwar Pujara at leg-slip.
The arrival of Root heralded an instant shift in tone, as he wasted no time indulging his party piece. Twice in his first balls he stooped to sweep Nadeem for four, and Ashwin was soon treated similarly as Root happily swung for the ropes.
When the latter adjusted his line, Root simply swapped his hands and reverse swept yet another boundary.
Lawrence watched from the other end as Root raced past his score in a quarter of the time and fell for 18 as Ishant Sharma trapped him lbw with a full ball. In doing so the veteran became just the third Indian seamer to reach 300 Test scalps, a frivolous review only delaying his satisfaction.
By now there were two matches unfolding simultaneously, with Root dominating one and India making good headway in the other. Even the arrival of Stokes could not alter that, one muscular blow for four his only real intervention before he nicked Ashwin out of the rough to make it 71 for four.
The one they wanted – and needed – was Root. He had eased to 40 without a care when Bumrah got one to tail back in and pinned him lbw on the back foot. The seamer had not been used until the 22nd over but he had more than made up for lost time.
Ollie Pope and Buttler added a few more runs before the break and may be invited to swing the bat to set up the declaration when things resume.
PA
Source: Read Full Article