On a Boxing Day soundly won by India, the best-performed Australian was MCG curator Matt Page.
Three years into the job, he has coaxed the best out of a once notorious strip. For a decade, the words "drop-in" when associated with pitches have jarred. At last, "drop in" sounds like an invitation. This pitch, held together by a little more grass than is customary, had pace and bounce and carry, condiments it has lacked in recent years, and didn't India enjoy it?
Australia's bowlers might have thrived on it, too, and for an hour at end of the day did. But having won the toss, Australia did not hesitate to endorse the pitch by batting first on it. That was their endorsement; let there be no talk of a monster.
For the Australian batsman, true bounce and a slicker than usual outfield gave value for shots. It was just that a superbly disciplined and expertly marshalled Indian attack denied them the scope.
They were abetted by the enterprising captaincy of Indian locum Ajinkya Rahane, who spent the day shutting gates before the horse could bolt. Australia's two best batsman, Steve Smith and Marnus Labuschagne, and its captain Tim Paine were all caught in astutely placed leg gullies. Elsetimes, Rahane set five slips, later still two mid-wickets. He did not so much set fields as position his pieces, like a chess master.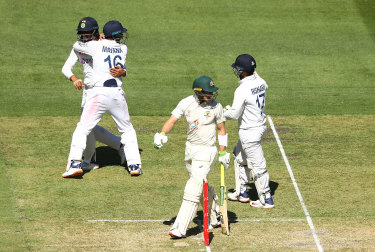 Tim Paine leaves the MCG arena.Credit:Getty Images
India's attack was like a quality set of knives, each performing a slightly different function. Jasprit Bumrah comes at the batsmen like a carving knife, Ravi Ashwin and his guiles at the other end of the range make stinging paper cuts. This day, a shiny new blade appeared. Rahane did not pull out Mohammed Siraj until after lunch, but played his part by pitching up at honest pace, swinging the ball both ways and claiming Labuschagne for his maiden wicket. Between them, they wasted scarcely a ball. If they were seduced at all by the bounce, they resisted.
Together, they re-exposed an inherent frailty in Australia's batting, which was also evident in the first Test until disguised by the bowlers. Three innings into the series, the only top order Australian to reach 50 is Joe Burns, and that was from the last ball of the Adelaide match.
Labuschagne worked tenaciously for his 48 this day, but without ever finding his fluency of recent seasons. Again, he danced with DRS. If he was not lbw when sweeping at Ashwin – ball-tracking imagined that the ball was passing over the stumps – then a million batsmen surely have a class action against their lbw decisions.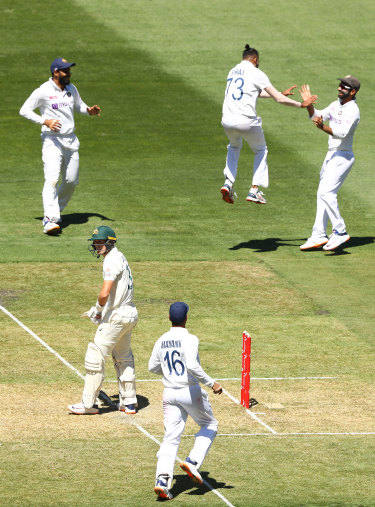 Big wicket: Mohammed Siraj after snaring Marnus Labuschagne.Credit:Getty Images
About the rest of Australia's batting, there are asterisks. Burns again was unequal to the away-swinging delivery. Matthew Wade struck the ball as sweetly as an opener, but got out like a No 7, swinging wildly at Ashwin. Steve Smith again misread Ashwin's length and by his standards is at sea. He more than any of us wants to see the back of 2020; he is presently 900 runs down on 2019.
Travis Head, who put on 86 with Labuschagne, did his team a service, then himself a disservice when again dabbing a right-arm bowler from around the wicket to slip. His whole career has been a grey area. Cameron Green is finding that Test bowlers' shackles are harder to break than in the Sheffield Shield, but at least has his beginner's get-out-of-jail-free card.
If a caveat applies, it is that this is shaping up as a bowlers' series. To date, there have been only three half-centuries. One was made by Virat Kohli, who won't appear in the series, one by Burns, who may not, and one by Paine, which was gratifying and match-winning, but he is the wicketkeeper. That is, his runs mostly should come as a bonus, not a dependency. In India's preliminary reply at the end of the day, debutant Shubman Gill showed up the Australians with his reassurance.
India's effort was a tribute to itself, but also to the ability of modern Test teams to compartmentalise bad days. Australia has done it repeatedly, coming back from double-digit innings in Cape Town, Nottingham and Hobart to win the next match, also shutting out the Stokes-slaught at Leeds last year to win at Manchester and keep the Ashes. England won that Leeds match after making 67 in its first innings.
The default conversation in such moments is to talk of scars inflicted, but when tended by the army of professionals who accompany 21st century sports troupes, they leave barely a mark. It's what comes next that matters. It's a moral we the people of Earth in 2020 could all draw on.
This was not the welcome back to country that Melburnians had hoped for at the G. But the temporary capacity crowd of 30,000 generously spaced fans dotted around the stadium were discerning enough to appreciate it for what it was, and to be grateful that it was anything at at all. While India ruled, their absorption hummed. For Australia's late counter-attack, they roared as if numbering 60,000.
Most Viewed in Sport
Source: Read Full Article