Ashleigh Barty has hinted at her frustration at not being able to get her Melbourne-based coach into Queensland ahead of the sport's professional resumption following the sudden impact of the COVID-19 pandemic.
A day after confirming a trip to Europe to defend her French Open title was off the table, world No.1 Barty said she hadn't had face-to-face contact with Craig Tyzzer since March, when the global tennis tours were stopped in their tracks by coronavirus.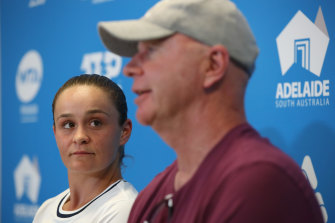 Ash Barty with coach Craig Tyzzer earlier in the year. The pair have been separated for six months.Credit:Getty Images
Concerns about COVID-19 had already seen Barty, 24, opt against travelling to New York for the US Open. She then decided against travelling to Paris, ruling out an assault on back-to-back French Open titles, instead turning her attention to the Australian summer.
The Queenslander said she and her team "tried to do all the right things" in order for Tyzzer to enter the Sunshine State. Queensland has maintained strong border controls for all travellers seeking to enter but has become an effective "home away from home" for various sports including the AFL and the Super Netball competition.
"Not having him up in Queensland has been very challenging," Barty said.
"It's been a real challenge for 'Tyz' and I. I haven't been able to see him since March.
"We tried to go through all the right applications, tried to do the right things.
"Unfortunately we were rejected. We'll try again for pre-season and hopefully we can prepare as best we can for the Australian Open."
It's understood permission was available from the Queensland government for Tyzzer to enter the state but only subject to completing a 14-day period of quarantine nominated by authorities.
Queensland Health defended the state's stance.
"Queensland's current border restrictions are in place for one purpose – to save lives," a spokesperson said. "We understand the health directions in place are strict, but they are designed to protect Queenslanders from COVID-19.
"Hotel quarantine in Queensland has strict controls and oversight to ensure the safety of those quarantining and the community as a whole."
On Tuesday Barty revealed the two key reasons why a trip to Paris for the rescheduled French Open was off the agenda, including the health risks associated with the pandemic.
"It has been a difficult decision to make but unfortunately I will not be competing in Europe this year. Last year's French Open was the most special tournament of my career so this is not a decision I have made lightly," she said in a statement.
"There are two reasons for my decision. The first is the health risks that still exist with COVID. The second is my preparation, which has not been ideal without my coach being able to train with me due to the state border closures in Australia."
Tyzzer has been by Barty's side since her climb to the top of the sport started to unfold in 2016, culminating with last year's French Open triumph and claiming the world No.1 ranking.
Barty hasn't played any WTA tournaments since the tour was stopped suddenly by the global COVID-19 outbreak in March. But she is eyeing off a return to the game Down Under.
"I wish the players and the French federation all the best for a successful tournament," she said.
"I now look forward to a long pre-season and the summer in Australia. It has been a challenging year for everyone and although I am disappointed on a tennis front, the health and wellbeing of my family and my team will always be my priority. Thank you to my fans for your continued support, I can't wait to play for you again."
Most Viewed in Sport
Source: Read Full Article