Danielle Collins spent time during the off-season at a public court near home, taking on the best a ball machine could spit out at her. It made her feel comfortable and reminded her of what she used to do as a kid.
Whether she gets any sort of comfort or sense of composure against world No.1 Ashleigh Barty on Saturday night, however, remains to be seen.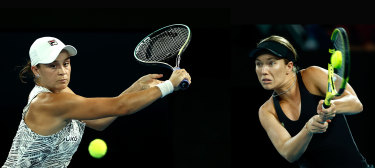 Ash Barty and Danielle Collins will go head to head in the Australian Open final on Saturday night.Credit:Getty Images
After all, the Queenslander, playing at the top of her game and with six opponents from six hours of tennis left in her wake, offers an unpredictable mix of shots, speed, angles and spin. Will 28-year-old Collins be able to do what countrywomen Madison Keys and Jessica Pegula couldn't in the semis and quarters? Can she solve or better understand the Barty puzzle before it's too late?
"I think over the course of my career I have done a pretty good job of practising against people who have variety in their game," Collins said after a 6-4, 6-1 semi-final demolition of highly regarded world No.7 Iga Swiatek.
"I try to play with people that throw different shots at me that maybe I don't get all the time, just so that I'm constantly working on it and trying to get better at it.
"I played against a lot of people in the park that liked the slice backhand, a lot of people that have a one-handed backhand, which Ash doesn't really have, but using the one-handed slice."
It's been a constant theme through 12 days of play at the 2022 Australian Open – the craft and guile of the Barty game, the way the two-time major winner cuts opponents up, almost as if they don't realise what's happening until it's too late.
One player who has witnessed Barty's skills up close on a host of occasions is Roland Garros champion Barbora Krejcikova, a doubles star fast establishing a formidable singles reputation. She has been across the net from the Queenslander of multiple occasions.
"I mean she is very difficult everywhere," the world No. 4 told The Age and Sydney Morning Herald. "It's very difficult to play against her."
The word "crafty" immediately springs to mind.
"She's really powerful, she has a really good serve," said the 26-year-old Czech. "She has a really good forehand. She knows how to volley, she knows how to come to the net."
Barty practises at Melbourne Park on Friday.Credit:Eddie Jim
Unlike some of Barty's other foes, however, Krejcikova is eyeing off more chances against the two-time major winner who, notably, had to beat her at Wimbledon last year.
"Maybe she confuses players, for sure she doesn't confuse me," she said with a laugh.
"But, yeah, her game style is really good … I was watching all of her matches because I would like to watch her and learn from her.
"She wasn't doing any mistakes, and she was really, really consistent and solid. And, yeah, for me the next biggest goal is to try and play against her as much as I can."
Former US Open finalist Keys was put through the wringer by Barty in the semis. The American suffered a straight-sets loss in their first head-to-head match since Roland Garros in 2019, the first of the Australian's two majors.
Wracking your mind to find a way to crack the Barty puzzle is a confronting on-court experience. "It's tough. It sucks," Keys said, smiling.
Every facet of Barty's game is peaking, or has been sharpened. Coach Craig Tyzzer, after the quarter-final win, said he expected his charge to reach an even higher level.
In the two-and-a-half-year gap between matches against Barty, Keys noted the subtle improvements.
"I think everything has just improved a little bit," she said of Barty.
"I think she's got a little bit more precise on her serve. I think her forehand, she's doing a really good job at mixing up paces and spins, as well. It feels like you can't really get in a rhythm off of that forehand side.
"Then on her backhand side, I mean, everything is coming in at your shoelaces on the baseline. So it's not like you can really do anything with that."
Ominously, Keys was convinced that Barty is entirely in the right frame of mind.
"I think she's playing some really, really good tennis, but she's also, it just seems so locked in and focused. I mean, I have played her a handful of times, and this is easily the best I think she's ever been playing," she said.
For Collins to find a way, it may be a case of looking internally to find that happy place and translate it to on-court composure.
"I love that you brought that up about the public courts, because that's something that I enjoy so much. Even when I'm here and playing in these stadiums, I think back to all the special moments that I have had there," she said.
"It's really like a zen moment for me sometimes to think about playing in the park. I'm going to have to think about that a lot when I'm on court with Ash."
News, results and expert analysis from the weekend of sport sent every Monday. Sign up for our Sport newsletter.
Most Viewed in Sport
From our partners
Source: Read Full Article